"Loyal to the Oil" fuelling agriculture and industry
Fleet number 312 is a new Mercedes Benz 3248 8×4 that is configured for Wealleans Allied Petroleum farm trade and bulk fuel deliveries.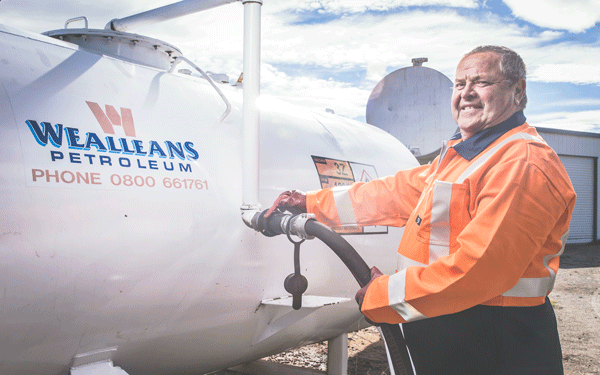 The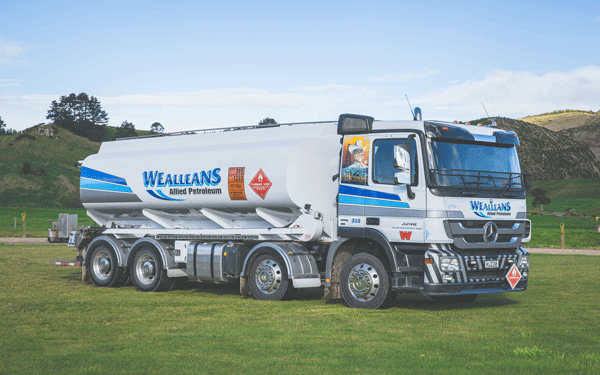 complete 7 axle unit has been set up to meet oil industry fleet standards and has a carrying capacity of 44 Tonne.
The truck has been dubbed "Loyal to the Oil" in recognition of long-time Team Wealleans member John Rae (or JR as he is more commonly known, pictured to the right) who will be operating the unit.  John Rae bought up 25 years service this year with Wealleans as a fuel tanker operator and as a sign of respect to J.R.'s service milestone the truck name and mural have been based on his fictional namesake and fellow oil industry devotee John Ross "J.R." Ewing Junior the character in the hit U.S. television series Dallas (1978-91) and its spin-offs.  J.R. Ewing was groomed to be the heir apparent to his father Jock at Ewing Oil, an independent oil company that Jock ran.
John Rae conducts deliveries throughout the Wealleans Allied Petroleum delivery zone with a focus on servicing the Central Plateau of the North Island an area he has serviced and has a strong affiliation with throughout his tenure with Wealleans.
Save