Merger Adds Depth And Strength
N.T. Wealleans Limited is proud to announce the successful business merger between Wealleans Petroleum Distributors Ltd and Allied Petroleum Ltd.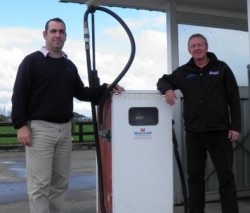 The new joint venture, Wealleans Allied Petroleum Ltd, will be managed by Wealleans Allied Petroleum Ltd General Manager, Bruce McIntosh.
Bruce says both parties believe the partnership will work well as both share a similar family orientated business model.
Merger Goals
The main goals of the merger are to:
Provide additional capital for equipment and growth opportunities.
Bring together the best management and operations skills from both companies.
Provide greater business scale to help with negotiations with suppliers and customers.
The development of the partnership will provide the company with stronger bargaining power on behalf of its customers and the creation of new opportunities for employees says Bruce.
"The approach of continuous improvement is important to keep us ahead of our competitors and in time, where it makes sense, some changes will be introduced that make Wealleans Allied Petroleum Ltd a stronger company."
Wealleans Allied Petroleum Ltd General Manager, Bruce McIntosh.
Merger Benefits
The benefits of a strong partnership will be seen in improvements in areas such as:
Staff training.
Health and Safety systems.
Managing storage equipment.
Negotiating with Mobil.
Fuel card technology.
Contacts with prospective clients.
Job opportunities.
The underlying focus of Wealleans Allied Petroleum Ltd is to deliver fuel safely and efficiently and to provide customer service that is second to none.
Save