The Pegasus Express Takes Flight
A new addition to Wealleans Allied Petroleum Ltd's tanker fleet is an integral part of the company's drive to provide the best service possible for the customer.
As pictured here, Wealleans Allied Petroleum Transport Manager, Janne Cauty (right), recently handed the keys for the latest edition to the Wealleans tanker fleet to tanker driver Derral Heta.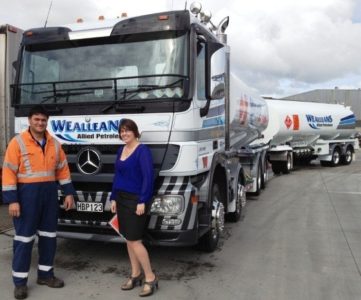 Fleet number 306 is a new Mercedes Benz 3248 8×4 that is set up for Wealleans Farm Trade and bulk fuel deliveries.
Named 'Pegasus Express' for the flying white stallion described in Greek Mythology,  Derral's new 480hp ride is equipped with various safety features that mark the standard for future Wealleans tanker fleet purchases; these include:
FUPS or front under-run protection.
Under-run protection on both rear and side extremes.
Pneumatically operated safety hand rails on the top of the tanks.
In cab suspension raise / lower control.
"Silent" Voith Hydraulic Retarder.
Speed limiting.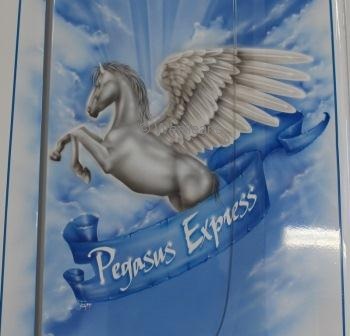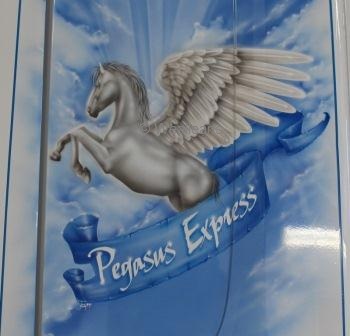 The complete 7 axle unit has been set up to meet oil industry fleet standards and has a carrying capacity of 44 Tonne.  Pegasus Express will be seen operating in Derral's patch around the South Waikato.
Wealleans Allied Petroleum General Manger, Bruce McIntosh, says getting the tanker on the road, complete with refurbished trailer, was a combined effort.
"Wealleans Allied Petroleum would like to thank; Nigel Monk (Trucks and Trailers), Cliffy (Sign art), Peak Panel and Paint (Te Puke) and Seaview Engineering for the end result."

Wealleans Allied Petroleum General Manager, Bruce McIntosh.
The team at Wealleans Engineering and Mechanical Ltd, combined with Shannon from MFI, turned out a fully refurbished and refinished 3 axle trailer.
Save
Save
Save
Save