Next Generation Of Haulage Heavyweights Fronts Up
Wealleans Bulk Transport Ltd's fleet has been upgraded with the arrival of a new heavy cartage vehicle.
Proudly sporting the Team Wealleans colours the new truck, a DAF CF85 6×4 tipper, is already out there delivering loads across the central North Island.
The truck is powered by a 510hp Paccar MX engine with an 18-speed Roadranger manual transmission and Meritor MT23-165 rear axles and replaces an older Mercedes Actros unit.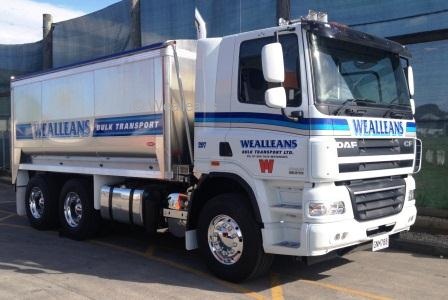 This is the first of three new DAF units coming into the Wealleans Bulk Transport Ltd fleet this year and features an alloy bin and matching four axle trailer built for Wealleans by Domett Trailers.
The new truck will be based in Tauranga and will be driven by Brendon Abbot.
The upgrading of the fleet continues Wealleans Bulk Transport Ltd's on-going commitment to providing a complete bulk transport service, delivering a variety of products where and when needed.
While Wealleans Bulk Transport Ltd is generally focussed on servicing rural markets, delivering to bulk storage facilities, air strips and farm fertiliser bins and other destinations, the company has the structure and ability to fulfil a range of contracts.
Products regularly carted by Wealleans Bulk Transport Ltd include, among others; lime and fertiliser products, chicken and calf shed litter, grain and animal feeds and race rock.
For the prompt, efficient and reliable delivery of your chosen product look no further than the hard working team at Wealleans Bulk Transport Ltd.