Spreading(s) the word
There's some irony in the way things have worked out between the pioneers of Waikato's fertiliser groundspreaders. Team Wealleans was quite possibly the slowest growing of the bigger companies back in the early days of bulk spreading, in the 1950's.
Based on a Fleet Focus story NZ Truck & Driver published in December 1999 issue.
Written by Wayne Munro.
Through the '60s and '70s other groundspreaders like the Midland Group and Dibble Brothers easily left behind the Hinuera-based family business started by the late Tom Wealleans – The Godfather. And yet here we are at the start of the new millennium and this company – still headquartered in the tiny central Waikato township on the main road between Tauranga and Hamilton – is not only the biggest bulk fertiliser spreading operation in the Waikato…
"I'd say we're the biggest privately owned groundspreading company in the southern hemisphere"
Gavin Wealleans, Team Wealleans Ambassador

---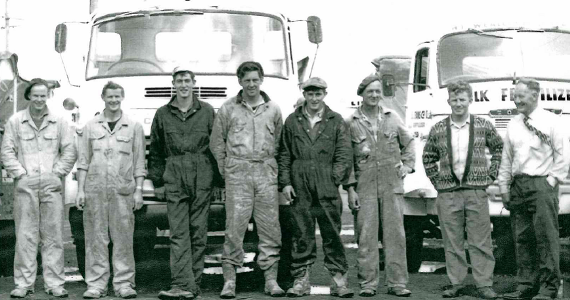 ---
Expansion programme
The Wealleans operation – just four trucks strong in 1964, after 18 years in business and still only out to 14 or 15 trucks by 1970 – these days boasts a fleet of about 70 groundspreading trucks.
Farms all over the Waikato, Bay of Plenty, King Country and Central Plateau get the benefit of many hundreds of tonnes of fertiliser, lime, and chicken litter spread by trucks in the Wealleans group every year. Already Wealleans has – thanks to what Gavin Wealleans terms (in a classic piece of understatement) "a bit of an expansion programme" – taken over or created about a dozen new companies in the cause of a constant widening of its working area.
The twist that was notable among them have been – some time ago – the groundspreading part of the carved-up and sold-up Dibbles operation, and Patetere Transport: It's one of the remnants of the old, once dominant, Tirau-based Midland Group. And yes – Gavin Wealleans does appreciate the irony of it: That the self-styled little guys from Hinuera have come up lasting the longest. Looking the strongest. Their main rivals in the old days were, he says, "very large companies that grew quickly…. but probably didn't have that vision that Dad had." And that was to "involve the whole family." Well partly that… and to be staunchly "local".
Do it as a family
How do you manage that when you're expanding in every direction? Simple: Do it as a family – and, when you run out of genuine family members, do a deal with competitors to give you a whole bunch of "local" operators all over the North Island's dairying heartland. Making them part of the expanded – and extended – Wealleans "family".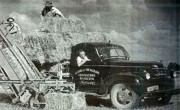 First off, back in '51, founder Tom Wealleans was clever in locating his five-year-old company in Hinuera – a spot that's well-served by road and rail access and is pretty much "local" to much of Waikato's richest dairying country. Then in quick succession he brought in his son's Gavin, Ken, Barry and John into the business – giving customers a range of Wealleans to deal with. And then they started expanding the Wealleans "family" moving first into the Bay of Plenty, then into fuel deliveries, then "taking over the opposition" – buying local operators in Matamata, Otorohanga, Te Awamutu, Karaka, Cambridge, Arapuni, Edgecumbe, Mount Maunganui, Rotorua, Reporoa, and the Western Bays. In many cases they've taken the operators in as minor shareholders in a new Team Wealleans subsidiary company.
"we are still very much localised – pretty much the small town boys. We pride ourselves on being a family business and we've pushed that to its limit to get ourselves more and more work."
Gavin Wealleans

Tom Wealleans, a visionary
Looking after the family is what Tom Wealleans wanted to do most when he started the groundspreading business in 1946. He was one of seven kids in a Fielding farming family – a situation which meant all of them couldn't possibly be supported by the Wealleans property. So it became his dream to provide his boys with a business they could all be involved in.

Tom was, his son says proudly, "a bit of a visionary" – and he saw that New Zealand had the potential to be one of the best farming areas in the world… given some fertiliser to help it along the way. So he quit his business running milk delivery trucks in Hamilton, bought a couple of Army surplus GMC 4x4s (one pieced together with parts from a tank as well) and began spreading fertiliser off the back of a truck.
He soon won a large Lands & Survey contract – helping to break in country in the Taupo and Mangakino region for soldiers' rehab farms. Bagged super phosphate – you got 12 sacks to the ton – was "piled in there. And Tom saw the potential for doing it much more easily if they could get it in bulk." As that became a possibility, he put on another couple of ex-Army trucks: "He'd be away for months," remembers Gavin. So, as a family we only really saw him occasionally – so we'd go down to see him on these blocks for weekends.
"I remember Dad cooking the tea on a fire with a 60-gallon drum that was like his pressure cooker – he had everything in there: His spuds, sausages, turnips, carrots."
It's funny, says Gavin, "how the wheel turns: You know, we're actually topdressing that country again now."
The Backyard Garage
It was five years before Tom decided that things had really outgrown what Gavin terms "a backyard garage" at home in Hamilton and switched the operation to an old shed in Hinuera.
By 1964, Tom's dream was getting closer: Although Team Wealleans still only had a fleet of four Commers, he and original employee Jim Boyte were on the verge of bigger things.
Gavin tells the story:
"Basically Tom saw that the business was going to grow quite quickly and he thought, 'well, okay I've got four sons. Better get them in."
First it was Gavin, who'd spent five years working as an insurance agent in Te Awamutu, who went to work for his Dad – running the admin and operations side of the business, while Tom "focused in the money in, money out."
Next in were Ken and Barry – put to work initially as drivers: "That's really behind our success – us having hands-on experience," Gavin reckons. Later Barry's twin brother John completed the family involvement – driving a small truck on bagged fertiliser deliveries. Already close as kids, Gavin, Ken and Barry shared a house at the back of the Hinuera depot as well as working in the business together: "There's a lot of stories from that time!" is all Gavin will say, laughing.
In addition to its central location in the Waikato, Hinuera gave Wealleans the springboard for its almost constant expansion since the mid-Sixties: The Kiwi Fertiliser Company had just opened its first Waikato bulk manufacturing plant at nearby Morrinsville so that was close at hand. And the lime that Wealleans also spread was delivered virtually to its door from Te Kuiti – by rail to the Hinuera siding. And there were plenty of other sidings around the Waikato that allowed something akin to bulk delivery almost to the site.
Growing the business
With a ready source of supply and by having the Wealleans family team out selling to farmers, the business began to grow – to the extent of about three or four new trucks a year. By the late '60s, for instance, "we probably had 14 or 15 spreaders," recalls Gavin.
The economics of fertiliser spreading on farms boiled down to one important bottom line: This new bulk groundspreading system Wealleans and other contractors offered, cost farmers the same as if they went to the trouble of lugging it all in bagged and then having it sit in their sheds for up to 10 years.
The situation was ripe for the expansion, The Godfather reckoned – and that would allow the company to get maximum use out of its fleet. Gavin explains:
"The whole industry's very seasonal – we have two seasons in the dairy farming side – spring and autumn. And it doesn't matter how often you tell farmers that you can put fertiliser on at any time, that's the only time they're interested in doing it."
Going into the Bay of Plenty
Expansion would also suit the family structure. With enough Wealleans in the business they could move into a couple of key new areas and still have Wealleans running it. The first opportunity to put that idea into practice came in the early 1960s, when the Bay of Plenty Fertiliser co-operative was formed to build a new fertiliser works at Mount Maunganui. Ken Wealleans was sent "over the hill" (the Kaimai Ranges) to start Wealleans Bay of Plenty – buying-in a local involvement by purchasing the one truck run by local fertiliser merchant Kane and Kane: "We grew it into a four-truck business overnight," says Gavin.
Going into the Bay of Plenty helped Wealleans with its long-sought aim of "better utilising our trucks. The Bay of Plenty operation gave us a bit more of a spread-out season, because they had the horticulture industry just developing."
Into the petrol distribution
The business wasn't doing half-bad in the Waikato meantime – its operations extending beyond the central Waikato, as far south as Putaruru and Tokoroa. They also expanded in the early '70s into another kind of work completely – one that still complemented its bulk spreading work, by providing another service to many of the same customers. Wealleans was offered a contract from the Atlantic Union Oil Company to deliver petrol and diesel to farmers in the Matamata area.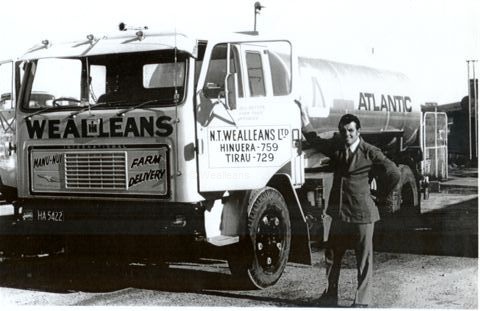 The company put on a little Austin seven-tonner and carted about 7000 gallons of fuel a year. It was a small beginning, says Gavin Wealleans, "but we saw this as an opportunity to have dual marketing to farmers – and something to complement our seasonal topdressing business." The fuel business was monthly and cash flow was the essence. The Austin joined an all-Commer fleet working out of Hinuera but that was about to change – to a Mercedes-Benz emphasis that continues today.
"From Commers we saw the need to have sturdy off-road vehicles and Mercedes-Benz gave us the ideal vehicle in a 4×4."
Most of the fleet are 4×4's – "although we do have six-wheelers in the fleet today as well." The Merc horsepower, four-wheel drive 1113s that Gavin Wealleans says "became the flagship of the company right through the 1970's and 80's were the first German marque bought in. The extra horsepower allowed another change – whereby the groundspreaders (capable of carrying five to seven tonne) could also tow a trailer-load (seven to eight tonne) of fertiliser with them to jobs.
The Automatt trailers, built by Domett Fruehauf (Formerly Dometts) have an endless belt system that, by tipping the trailer, can deliver the load into the spreader's bin.
For about 25 years now the Wealleans fleet of groundspreaders has been heavily Mercedes although there's the odd Isuzu or two as well. Gavin credits Hamilton accountant Frank Woodward as "our guiding hand for years" in advising on expansion – and that role has been continued after his retirement by their current accountants.
Sticking to the core business
One piece of advice that Tom Wealleans was given way back in the early 80s was to diversify –
"to sell up the trucks and move into kiwifruit farming, for instance. But, having the good old wise father that we had, he said 'no, we'll keep the trucks and we'll buy 10 or 20 acres of kiwifruit at Katikati as well. We did – but we've since sold it and put the money back into our core business. That wasn't us – we are contractors."
"It was a very good lesson in business – do what you do, stick to your core business and the wheel will turn." It was the same with spreading liquid fertiliser: "it needs such specialised equipment, we decided not to try it. And as it turned out, it hasn't taken off to a very large degree anyway."
On the other hand, further expansion has come – and regularly: "When Atlantic Union was taken over by Mobil in the early 1980s we were offered a fulltime distributor agreement to service farmers and commercial accounts and small retail outlets in Matamata, Putaruru, Tokoroa, Taupo, Reporoa and Rotorua areas." We've built that into a 20 million litres per year operation per year involving four truck and trailer units – a pair of 400hp Mitsubishi's and another two Hino 400's – working out of Mount Maunganui, but operated by the Hinuera office."
The Bay of Plenty operation run by Ken, with help from long-time employee Buck Buchanan, has grown dramatically – to the point where 20 Wealleans trucks are now based at Pongakawa, with expansion into the Whakatane area aided by the purchase of Central Bay Transport in that area and into Te Puke by taking over two contractors there. "In other words we were buying out our opposition. We'd rather take over local operator and increase our customer base."
Owner/operator
Starting in the late 1970's, Wealleans tried working with owner/operators – in a bid to retain skilled operators in such a specialist area.
"It's unique, the driving in our industry. It's really challenging. You don't just steer a bulk groundspreader – you really have to drive them."
So, for a period of five or six years, "we financed them into trucks and provided the work. But, it was my philosophy to evolve out of that and into small company operations, which we now have with Groundspread Ltd, Reporoa Groundspread, and Western Bay Groundspread." It is, he firmly believes, a better deal for the operators taken over: "They have a small shareholding in those operations and some are now up to eight truck operations and those guys who were only involved in driving trucks are now in management."
It's for another reason Gavin Wealleans looks back on the late '70s as "the bad times: The whole of the farming industry suffered a downturn. We just consolidated, stopped our capital expenditure programmes, put our heads in a hole in the ground and said, 'okay take two steps back.' Then, after that they bought subsides in for fertiliser and lime and it came right."
The Bay of Plenty operation continued to grow through the 1980's, aided by the construction of a new bulk store at Edgecumbe in the early '80s – BOP Fertiliser encouraged to build it by Ken Wealleans. That took away the need for spreader trucks to commute all the way between there and Mount Maunganui for each and every load: "it used to be very, very time-consuming: You'd have to be at the works at 2am or 3am to get out two runs a day. So, where before we'd have been doing about 20 tonne a day per truck, now we do about 50 tonnes."
Meantime, there's been more of the same on the Waikato side of the Kaimais: In the single biggest expansion move, Wealleans bought Karaka Bulk Spreaders at Papakura in about 1996 and Barry took over an operation that now runs 10 spreaders.
Just contractors
The Wealleans are "just contractors" – but contractors, that is, who are vitally interested in developments across two industries – transport and agronomy:
You've got to have a grip on where the industry's heading and keeping up with the latest,"
Gavin explains. Knowing how to best spread fertiliser is "just pure common sense," he insists – conceding that a lot of customers "do ring us up and ask 'what we put on?' "We try to help, but we are really just contractors."
These days there are dozens of blends of fertiliser – all made from a base of super phosphate –
"and that's where I think that farmers start getting confused…too many variations. We're the guys who put it on, and we don't mind what it is really – if the customer orders 10 tonne of chicken litter, we'll put it on for them."
How they do that is by way of spinning or blowing devices fitted to the spreader bins – the flow rate now determined by a computer programme: "We just plug in the area to be spread, the rate of application and the density of the product."
65 years of knowledge
In recent years Wealleans has tapped into "our knowledge of 65 years" to design and build its own spreader bins for fitting to Dommett Fruehauf trailers. It has an engineering and mechanical shop in the old dairy factory across the road from its Hinuera based head office and workshop (the company does all of its own fleet servicing and maintenance work) to build bins for all of its new trucks and to refurbish others.
Three engineers build the bins – out of steel in the last two years, alloy having been dropped because of its tendency to crack and corrode where fertiliser eats into it. Whereas Wealleans aim to replace trucks every five years (although, concedes Gavin, "it's horses for courses and the dollar value comes into it"), "a bin will last the life of three trucks."
The company also strengthens the chassis and sometimes shortens the wheelbase of its groundspreaders to suit different applications: "We have unfortunately had one fatality off-road and the odd rollover – but the new technology available in trucks in terms of tyres and specialised equipment we've got has kept the accident rate down."
The Unimogs were bought specifically so "we could get into a lightweight vehicle designed to spread high-analysis fertilisers (concentrated to the extent that instead of 100 tonne of normal fertiliser, a farmer could put on just 20 tonne of high-analysis fertiliser). In terms of typical spreading, "with lime we'd be putting on about a tonne to the acre. With super it varies – 500cwt for an acre or 400kgs to the hectare is about the norm for dairy. For sheep and beef farms a lot less: Maybe 250kg to 375kg per hectare.
"We do a lot of sheep and beef farms still – but it's a once a year job, not the three times a year for dairy farms."
These days the business has developed from each truck spreading on average about 2,000 tonnes per truck per year, to 5,000 tonnes – this from four to six-tonne loads. on average: "You can't go too heavy because you're off-road."
Developments and changes
The spreaders have changed, says Gavin, "a hell of a lot – both in the truck cabs and chassis and in the machinery we put on them. And of course the bigger the loads we put on, the bigger the horsepower we need."
As well as the four fuel tankers there are four truck and trailer units with tipping bins, used to pick up bulk supplies or fertiliser from Mt Maunganui and keep topped-up a growing chain or Wealleans transit stores – "we don't call them bulk stores anymore," Gavin Wealleans explains, '"because you don't need huge deposits or fertiliser. So they really are just transit depots." The stores are at Hinuera, Arapuni, Otorohanga and Te Awamutu.
The bulk trucks are part of the Wealleans Fleet not because it's an area the company wanted to be in – 'specially not when there are so many bulk units being operated throughout the North Island, by people like Regal Haulage and Swaps, at very competitive rates.
"I always looked at bulk trucks as a necessary evil to supply the product to our spreaders basically. The only reason we run them is that we can't get supply of product to our spreaders during the seasonal peaks. And you've got to have control of that product coming in."
The Mercs and Mitsis are about to be joined by a first for Wealleans – a Kenworth T401, bought for its tare weight and price tag. The fleet's completed by a couple of old Mercedes 1113s that have been pensioned off as recovery vehicles and by purpose-built, low-cab orchard spreaders – con­structed by the company out of Mitsubishi cabs and chassis: "We sell the cab back to them, set back the motor and put the bins on."
Hinuera & Wealleans
In Hinuera, the Wealleans presence is dominant: The local rugby club boasts a Wealleans sign – in recognition of its sponsorship – with the head office, original garage and new service area, plus a new transit store just down the road on Tom Wealleans' original one-acre site on the southern side of State Highway 29.
Opposite is a Wealleans service station and shop – with the engineering shop behind it. But more and more the company is looking further and further afield – particularly, says Gavin Wealleans "now the third generation's on board – with further expertise."
He's talking about his son Shane – a marketing and management graduate who's been in the business now for five years, running the Hinuera operation. He's recently also become a shareholder.
That's allowed Gavin to concentrate on the overall N.T. Wealleans operation – much as his Dad did when he joined the business 35 years ago. Gavin also now sees himself following Tom's lead: He quit full-time work for the company in the early '80s, "but I don't think there's ever a sign-off date in this situation."
His Dad, he says, "kept an interest in the business until he died two years ago: He became like an ambassador for the company. I think I'll probably follow in his footsteps."

Still much to be done
Meantime though, there's still much to be done – even with a company that's already come so far (a good indicator is a client base that's grown in 35 years from 200 at the most to over 5000 today). The single biggest expansion move the company still has to make, says Gavin, is stepping up to provide "a complete one stop fertiliser shop – where we supply, cart and spread. I'm talking about giving farmers on-ground prices."
Shane agrees: The full service – "from go to whoa is what the market will demand within five to 10 years," he reckons. Wealleans have already embarked on providing just that service – in the interests, says Gavin, of getting fertiliser to the farmer "as cheap as possible, on the ground."
The Wealleans also still have a mind to spread geographically – taking over small operations further south into Taranaki and the King Country, for instance.
The construction of the new transit store at Hinuera is, Shane reckons, a sign "of our commitment to the future and our ability to remain independent – although we appreciate the consign­ment arrangements we've got with a major fertiliser manufacturer – as far as spreading any number of products goes." There is, for instance, a growing demand for green fertilisers – the likes of chicken manure and worm-cast: "Although it's a small percentage of the total. there is a green dollar out there."
There's even a hint that this leader of the groundspreading industry could get involved in aerial topdressing: "I maintain that fertiliser applied as low as possible to its point of dropoff gives a better spread," says Gavin. "But aerial's never been so much a competitor – it's broken into geo­graphical areas: There's a place for trucks and a place for planes. "And probably that is another area for us to expand into. We have had a bit of a foot in the door look. It would give us that full service to our customers that we've been talking about."
It's very obvious that Wealleans is a company that is (as any fertiliser-spread­ing company should be) committed to rich growth.
Save
Save
Save
Save
Save
Save
Save
Save
Save
Save
Save
Save
Save
Save
Save
Save
Save
Save
Save
Save
Save
Save
Save
Save
Save
Save
Save
Save
Save
Save
Save
Save
Save
Save
Save