Family Tradition Continues
Groundspreading is very much a family affair for the Whakamaru/Marotiri based Lincoln family, in much the same way it has been for the Wealleans family.
Wayne and Joy Lincoln, along with son Ben, run Western Bay Groundspread Ltd from its Tihoi based depot and in 2013 entered into a joint venture partnership with Team Wealleans.
B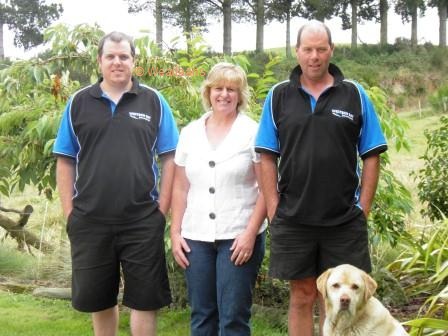 eing part of the groundspreading industry obviously suits the family with General Manager Wayne driving spreaders, Operations Manager Ben handling dispatch and Joy dealing with the paper work.
Wayne inherited the groundspreading bug from his father and grandfather who both drove spreaders in the area when he was growing up.
And the family fascination doesn't stop there, Wayne and Joy's oldest son, Corey, drove spreaders for the company before shifting to Australia to, you guessed it, drive spreaders.
Ben, who started out as a spreader driver for the company, says his experiences behind the wheel have been a big help when shifting into the dispatch role.
"I did start out driving spreaders but then I answered the phone one day and I have been doing it ever since, it's worked out well though as it means Wayne can do what he loves most, driving the spreaders and maintaining contacts with the local farmers."

Western Bay Groundspread Ltd Operations Manager, Ben Lincoln.
Wayne says the operational situation suits him perfectly because having the freedom to concentrate on providing the best service possible for the customer is what drives him.
"Service is the key to long term success for the business, it's a privilege to have a farmer ask us to do the job and it's the ultimate compliment to be asked to come back again."

Western Bay Groundspread Ltd General Manager, Wayne Lincoln.
Providing an essential service to a district that has been a big part of their lives is a motivating factor for both the business and the family says Joy.
"One of the best parts of running the business as a family is that we are able to stay really involved in the community, which is great as Wayne and I were both born and raised in the area and have lived here our whole lives."

Western Bay Groundspread Ltd Administration Manager, Joy Lincoln. 
With the added support of Team Wealleans, the Lincoln family is looking forward to providing a comprehensive groundspread service to even more customers in the future.