Fresh Signs For New Times
Anyone passing through the home of Team Wealleans in Hinuera over the summer would have noticed the freshly updated signage for the Wealleans Group of Companies.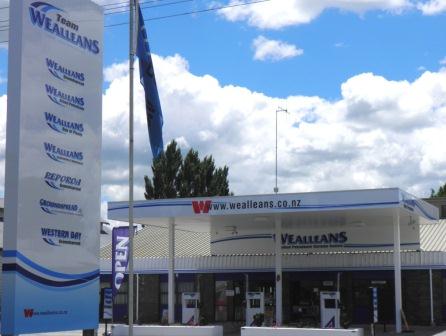 The package includes signage for the separate entities in the Wealleans Group, the re-branding of the Wealleans Allied Petroleum service centre and an upgrade in signage for Wealleans Groundspread Ltd's depot.
The new signage, in parent company N. T. Wealleans Ltd's traditional colours, was installed at the end of 2013 and features prominently on buildings on both sides of State Highway 29.
The upgraded signage is part of the company's dedication to constant improvement says N. T. Wealleans General Manager Shane Wealleans.
"With a number of changes to the group's structure in the past few years the re-branding and upgrade of signage ensures the Wealleans brand remains accurate and relevant."

N. T. Wealleans General Manager, Shane Wealleans.
The signage was designed, created and installed by Darryl Horne of Sign Source who has a long standing association with Team Wealleans.
With the company being located in Hinuera since 1946, Shane says the new signage will proudly announce Team Wealleans presence in the village for years to come.
"Team Wealleans and the Wealleans family have a long and proud association with Hinuera and all expectations are for that to continue."

N. T. Wealleans General Manager, Shane Wealleans.
Save