"Lime For Schools" provides a valuable funding source.
Since 2011 this joint initiative between Wealleans Group of Groundspread Companies and McDonald's Lime Ltd has provided rural schools throughout the Waikato, King Country, Bay of Plenty, and Central Plateau regions with over $45,000 of additional funding.
"This annual promotion provides our two companies with an excellent opportunity to support the rural communities that support our businesses", said Rob Schultz –Key Account Manager for McDonald's Lime.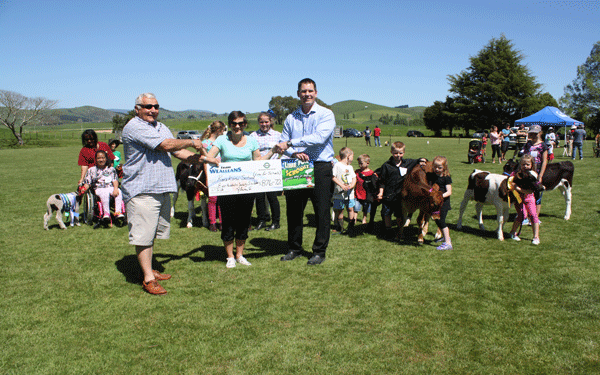 Customers in your rural area will be offered a discount off their Agricultural Lime requirements for the months of December, January and February. This discount, to the value of $1.00 per tonne on orders 30 tonne or greater when McDonald's Aglime is supplied and spread by the Wealleans Group, will be offered to the rural primary school as nominated by the customer. At the conclusion of the promotion the Wealleans Group and McDonald's Lime will provide each nominated rural primary school with a cheque and supporting documentation totalling the value of the discounts accumulated over the period.
Korakanui School is the most recent recipient and was presented with a cheque for $876.72 by Duncan Clarke from Wealleans Group and Rob Schultz from McDonald's Lime.
The presentation, which coincided with the school's annual Ag Day, was attended by parents and local farmers.
School Office Manager Faye Ashmore commented that they felt really privileged to receive this sort of support.
"We would like to thank Wealleans and McDonald's Lime so much for the lovely big cheque from the 'Lime For Schools' programme".
"It was also great that so many of our farmers were on hand to see just how much money can given back to schools like ours by just  spreading lime of their farms.
The school plans to use the money to assist in the purchase of two (2) ipads for the junior school to help ensure that students are connected with the outside world and to further develop their e-learning capabilities.
Pictured is Korakanui School Principal Cala McNeil being presented with the Lime for Schools cheque by Duncan Clarke (right, Groundspread Ltd Territory Sales Representative) and Rob Schultz.
For further information regarding the Lime for Schools programme contact Weallean's Head Office on phone 07 888 1759.