Win With Wealleans At A&P Show
Team Wealleans will again be strongly represented at the upcoming annual Te Puke A&P Show on Saturday, February 8.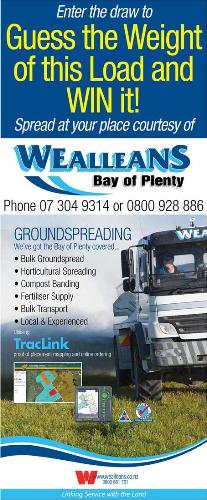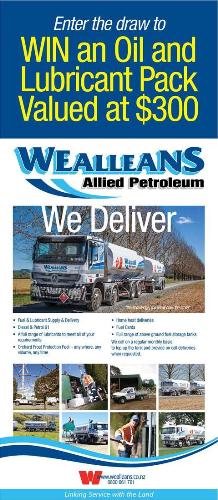 Wealleans Bay of Plenty Ltd and Wealleans Allied Petroleum Ltd will be flying the company flag at the A&P Showground's, Paengaroa, Te Puke.
Team Wealleans will have a trade stand set up featuring a selection of equipment, products and services to discuss with interested parties.
Visitors to the Wealleans site will have the opportunity to enter three competitions.
Wealleans Bay of Plenty Ltd is running a 'guess the weight of the load' where a lucky entrant can win a spreader load of Lime.
Wealleans Allied Petroleum is offering a prize draw featuring an oil and lubricant pack valued at $300.
The third competition is a $1000 cash draw entered by collecting a stamp from the Team Wealleans site and from other sites involved in the draw.
For full details on the competitions and any information regarding what Team Wealleans can do for you, please drop into the site and talk to our friendly staff.