"Lime For Schools" fourth season underway 1st December 2014 – 28th February 2015
In 2011, the Wealleans Group of Groundspread Companies, in conjunction with McDonald's Agricultural Lime Limited, initiated 'LIME FOR SCHOOLS' as a summer sales and marketing promotion.  Over the past three years rural schools throughout the Waikato, King Country, Bay of Plenty, and Central Plateau regions have received over $45,000 in additional funding through this initiative.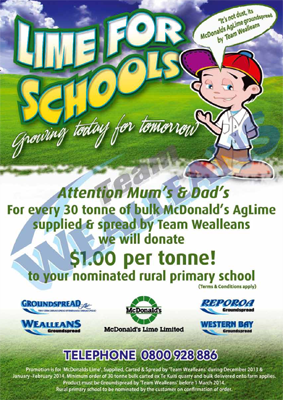 Working and living within the rural communities, we know that our rural schools are at the heart of our local communities. Wealleans and McDonalds Lime have collaborated in this promotion with the aim of providing rural schools in our catchment area with additional funding as they continue to strive to ensure rural youth get the best opportunities – growing today for tomorrow.
'LIME FOR SCHOOLS' will be run for its fourth year between the 1st December 2014 and the 28th February 2015 and the collaboration between Team Wealleans and McDonald's Lime will again provide a valuable funding source for rural primary schools in the Team Wealleans area of operation.
Customers in our rural service area will be offered a discount on their Agricultural Lime requirements for the months of December 2014, and January and February 2015. During this time the value of a discount of $1.00 per tonne on orders of 30 tonne or greater of McDonald's Aglime supplied and spread by the Wealleans Group, will be offered to the rural primary school nominated by the customer.
The promotion is being supported through the use of radio and paper media advertising and by our sales and marketing team out in the rural communities.
At the conclusion of the promotion the Wealleans Group will provide each nominated rural primary school with a cheque and the supporting documentation detailing the value of the funding accumulated for their school during this period.
*Terms and conditions apply.
Save