New Truck Will See More Fertiliser Spread In Reporoa
The groundspreading fleet at Reporoa Groundspread Ltd has increased with the addition of a new spreader.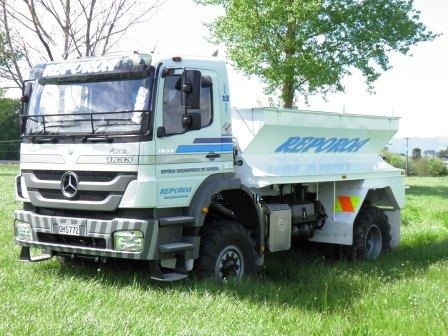 The 4×4 Mercedes Axor 1833, with 330hp engine, is equipped with a wide chain 6 tonne hopper and spinner manufactured by Wealleans Mechanical and Engineering Ltd in Hinuera.
 The truck is fully equipped with TracMap GPS unit and computerised Whitehead V3 Spreader Control System to maximise spreading efficiencies.
Fitted with low impact tractor tyres to minimise damage to pastures, the new machine is ideal for handling the terrain in Reporoa and the wider Central Plateau area.
Based at the Reporoa Groundspread Ltd depot, the new vehicle is driven by Paul Kenyon who says the smoothness and greater horsepower means it is a pleasure to drive
"The truck takes a good sized load and has the ability to tow a three axle trailer so that gives me a 22 tonne capability, basically it's a better all-round vehicle and having driven it I wouldn't want to go back into one of the older trucks now."

Reporoa Groundspread Ltd driver, Paul Kenyon.
With the new truck in operation, Reporoa Groundspread Ltd's ability to provide a dedicated groundspreading operation to all customers has increased.
As always, and now more than ever, Reporoa Groundspread Ltd's rallying call remains, 'don't put it off, put it on!'