Accuracy And Efficiency Are Team Wealleans Goals
For the last 6 years Wealleans clients have benefitted from the company's drive to be at the leading edge of fertiliser spreading following the installation of the latest TracMap GPS technology in their spreading vehicles.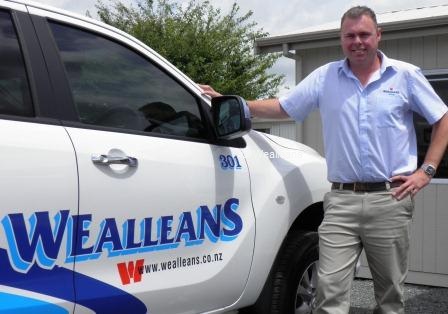 Now Team Wealleans are taking their ability to maximise clients return for their fertiliser investment to the next level with the adoption of an allocation and proof of placement system.
Crucial to the continued drive towards groundspreading excellence is the involvement of Team Wealleans new Head of Technology and Development, Ben Warren.
Ben, who spent over 2 years working for TracMap before joining the team at Wealleans, says the benefits for Wealleans clients are in greater accuracy and efficiencies.
"Team Wealleans TracLink allocation, ordering and proof of placement system allows clients to accurately map their properties using the latest simplified Google Earth technology. Once a map has been created or an existing map has been loaded into the system it becomes a vital tool for ordering product as the client can allocate areas to be spread simply by clicking on them, can identify any hazards or exclusion zones, can specify product type, application rate, preferred application date and can provide notes to the driver doing the job."

Wealleans Head of Technology and Development, Ben Warren.
Once an order has been received by the team at Wealleans it is checked and then sent wirelessly to the truck doing the job, meaning your order and farm map, complete with allocated paddocks, is on screen in the truck providing important information to the driver.
Upon completion of the job the driver sends conformation back to the office at Wealleans and an application report is generated and sent to the farmer.
These reports form the client's history and can be viewed at any time; they become a valuable resource when ordering the next application or when reviewing a whole seasons applications for budget analysis.
Ben's expertise with the TracMap, and Team Wealleans TracLink, systems ensures all Wealleans clients have an expert resource to call on when needed, all Wealleans trucks are accurate and drivers and support staff are trained in the technology.
"I am available to all Team Wealleans TracLink members and clients that want to be members to help set their farm maps up and get their first orders sent, as well as complete back up and on farm support when needed."

Wealleans Head of Technology and Development, Ben Warren.
Having been closely associated with Team Wealleans in his previous role with TracMap, Ben says the company's drive for excellence, customer service and industry leading commitment made joining the team an easy choice to make.